Guitar Stand (metal)


Design guitar stand for the electric guitar or bass guitar
Stand-By-Me Guitar Stand by CBRA Designs

Easy to Store
Guitar players know almost everything about their guitars, playing them, getting the most unique effects, and other stuff. However, when it comes to keeping the guitar, this is usually not given much attention. Many guitar players don't consider the importance of storing and transportation of guitars, even when they must. One of the most common accessories for storage is the guitar stands. They are simple, sturdy, easy to use, and generally protect your guitar from falling over and getting damaged. Not all guitar stands are made equal. Some are better than others, and this brings us to the Stand-By-Me Guitar Stand by CBRA Designs.

Hand-Crafted
If you've got a beautiful guitar, chances are you want something equally beautiful on which to display it. The Stand-By-Me Guitar Stand from CBRA designs is well worth checking out if that's the case.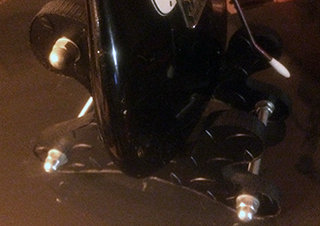 Stand-By-Me guitar stands from CBRA designs is a premium hand-crafted guitar stand with solid wood and iron design. It is strongly and solidly built for resting your guitar so it won't tip over and won't get damaged. This guitar stand is attractive and stands out from all the other stands and works very well for your electric guitar. CBRA Designs are passionate about providing the finest guitar stands intricately designed to meet the tastes of the passionate professional musician and all available at competitive prices. The store has in stock a huge collection of some of the best guitar accessories created to help you get the best use of your instrument.

The Stand-By-Me guitar stand is available for any color on demand at a price that suits its quality.

Features and Benefit of buying the 'Stand-By-Me'

Design: The design of the Stand-By-Me guitar stand is unique and beautiful.

Effectiveness: It holds your guitars securely, doesn't tip over.

Easy to Use: It has a quick and easy setup and very simple to use.

Speed: Guitars go in & out very quickly & easily.

Safe and Durable: Hand made with finish-safe iron that will last.

Buying a guitar stand might not be as complicated as buying a guitar or an amp, but it's definitely worth the effort to get a high-quality stand that suits your guitar perfectly. We hope the Stand-By-Me guitar stand from CBRA designs is the perfect choice for you. If you would like to find out more and order for the Stand-By-Me guitar stand from CBRA designs, please visit the link below.