How Trish Thunderstone creates a song


The Writing of "Astral traveling the stars"
Astral traveling the stars (w.i.p.)
And we start with a click track...


The chords so far...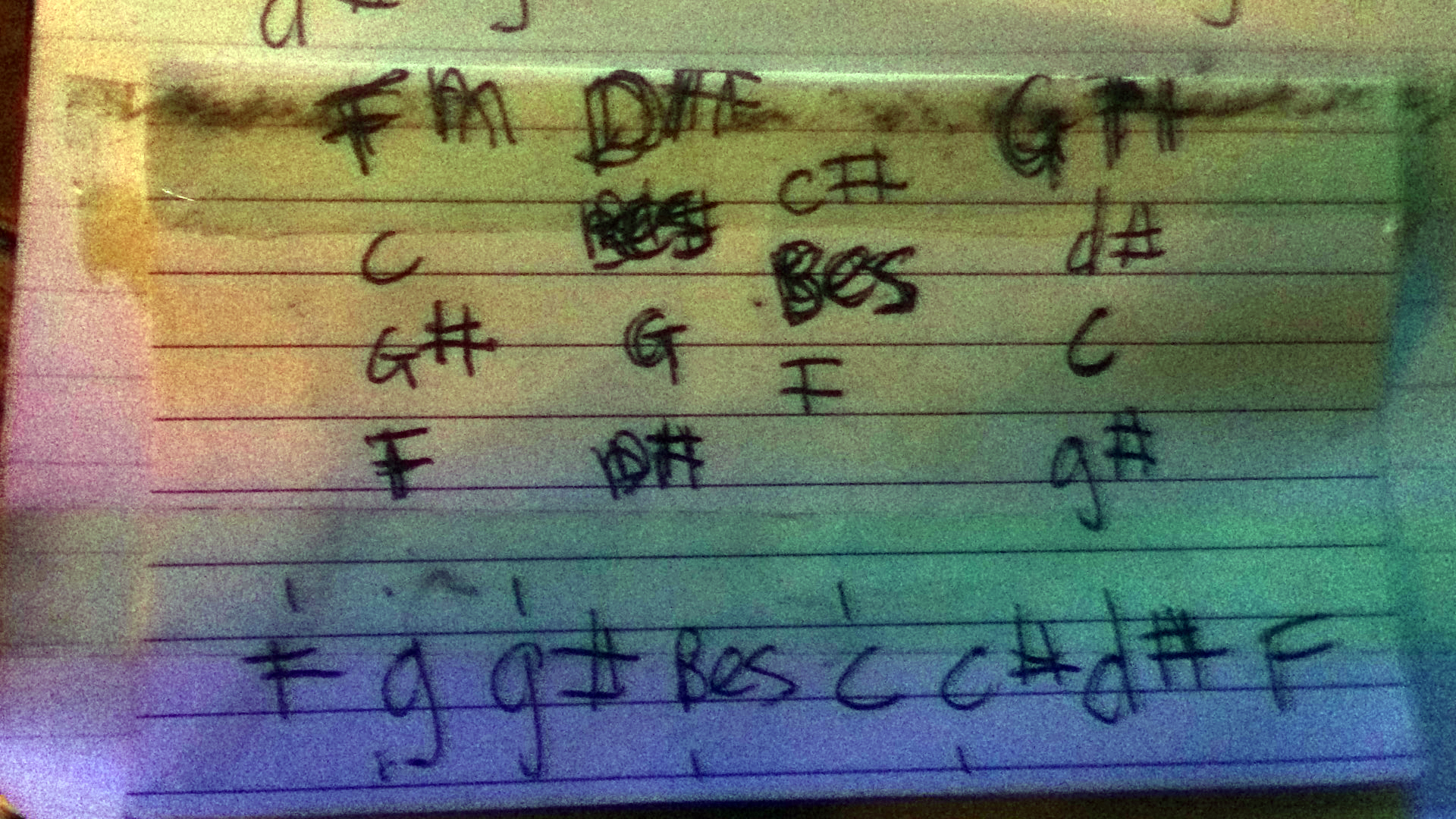 1. F minor

2. D# major

3. Bes minor

4. G# major





Work in Progress
About Trish Thunderstone

Trish Thunderstone has been making music ever since he was very young. His goal is to explore many mindscapes and sonic moods to create something truly special. His instrumentals are very original, often exploring a huge variety of genres and styles. Willpower and some ability to perform can overcome all obstacles. People may listen to these videos with amused wonder and some may be inspired also. This is music that dares to be different, without following in the self-indulgent pitfalls of excessive experimentalism. In other words, it is accessible, but also quite intelligently arranged and laid out.

More information can be found here: https://www.facebook.com/trish.thunderstone/

What kind of music program is Ableton Live?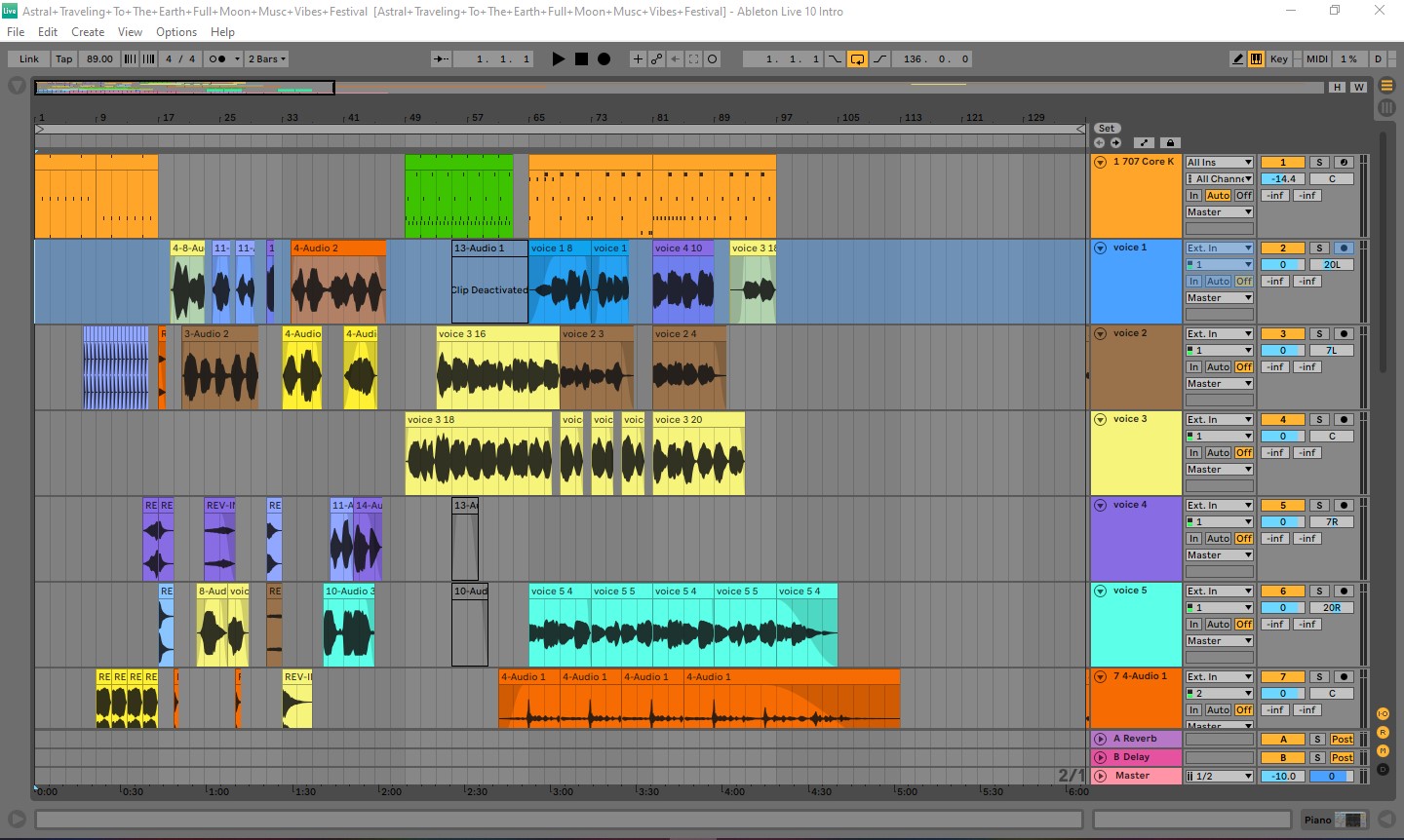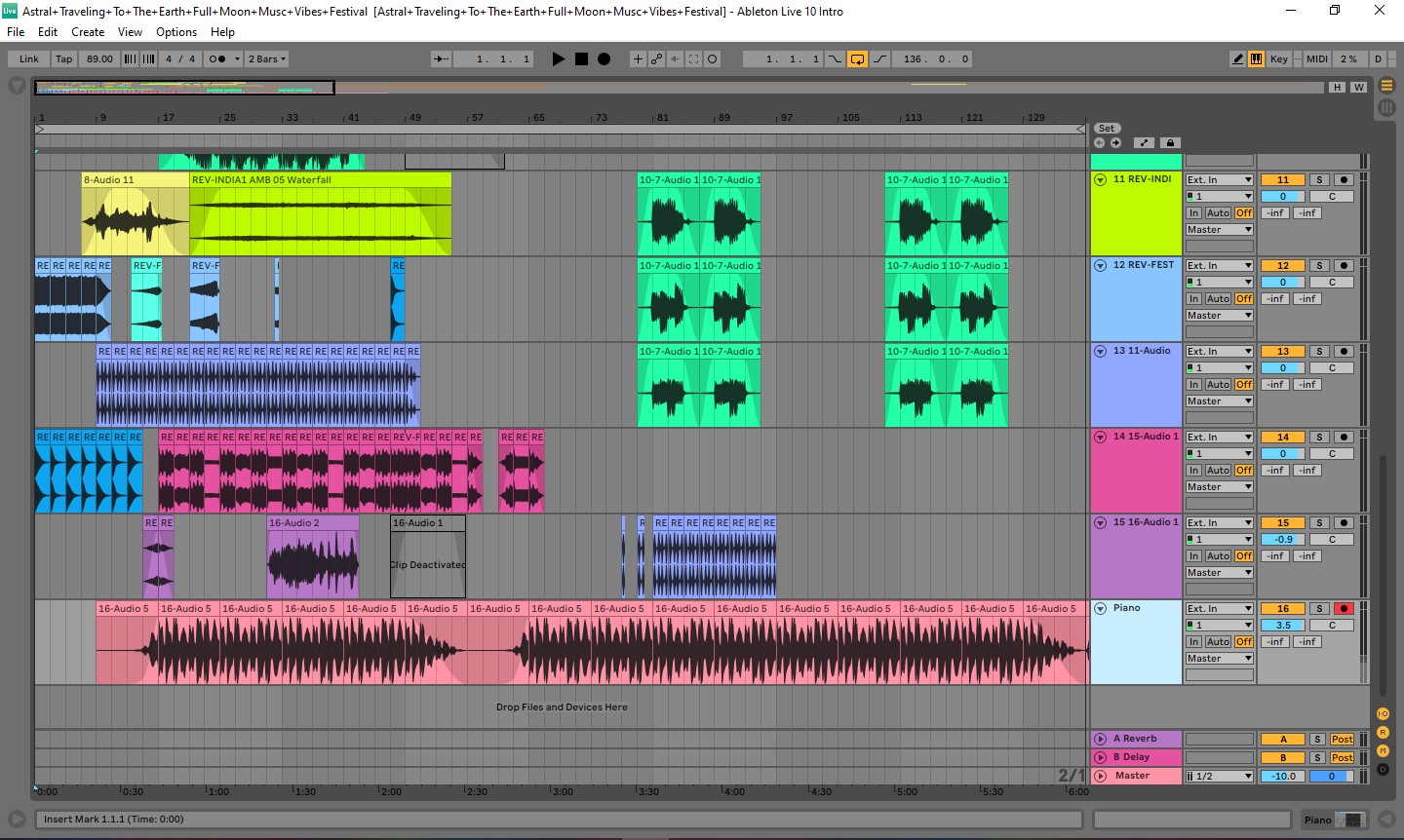 Ableton Live is a professional music production program for both Windows and Macintosh computers. It was developed by Ableton and released in 2001

More information can be found here: https://www.ableton.com

When we start to write/compose a song we like to edit it in Ableton Live 10 Intro. So, here we are, we launch the program and think about the beats per minute...
We put it on 89 BPM. We've added a few rhythmic samples from Hardwell. While playing we arrive at the chords for the piano.


Create new chords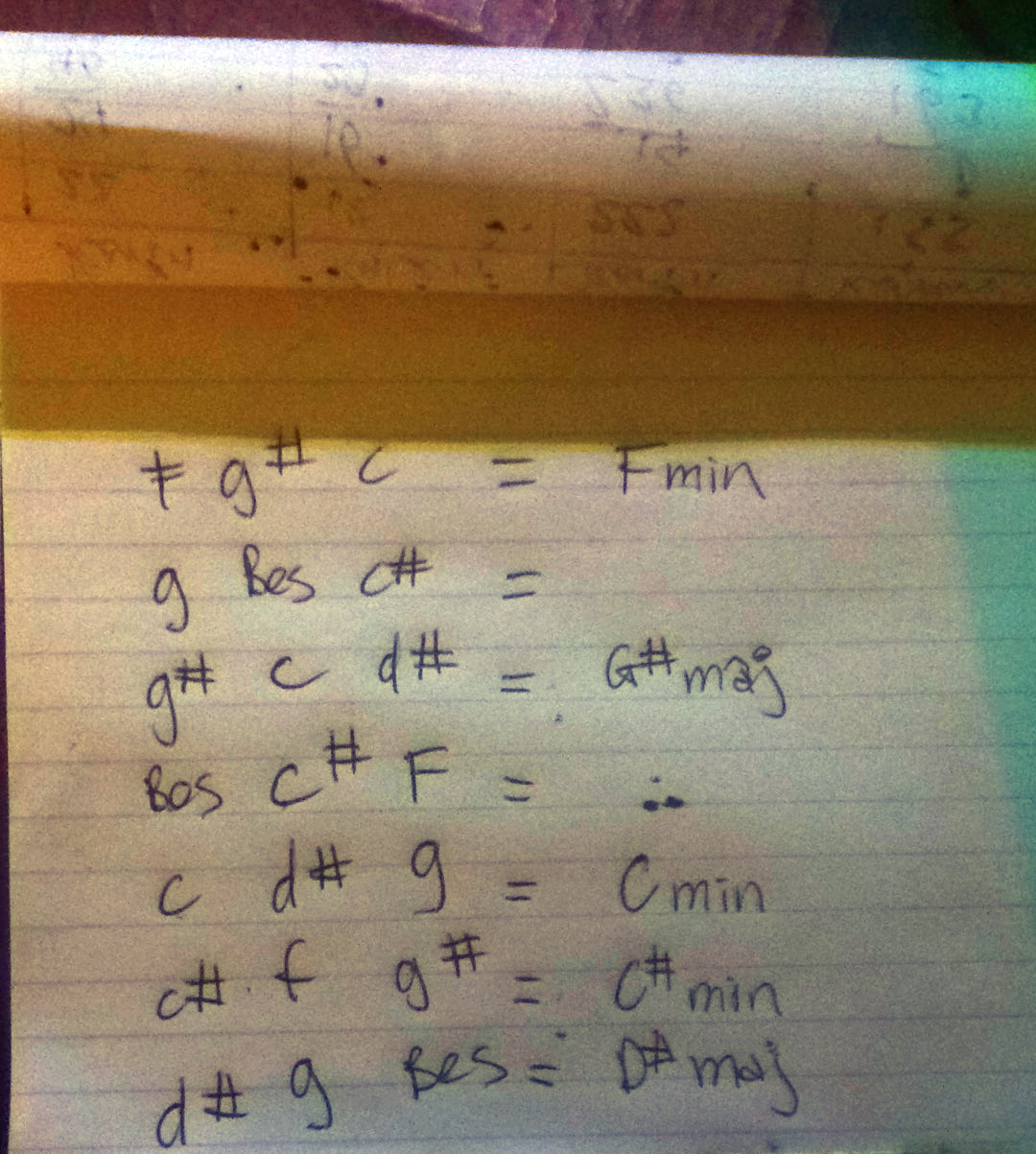 Write the notes down

From the chords, we can look up the scale by noting the notes that occur in the chords. And from the scale, we can make new chords.


f / g / g# / bes / c / c# / d# / f

Now that we listen to the piece of music again, we hear that there is a glitch at the end of the piano loop. We think maybe the CPU was overloaded when we were recording.



We are thinking of building a bridge

It's nice to build a bridge or a break with the chords we have, with these chords we can make a new chord scheme. See the image above.


Let's team up and invite other musicians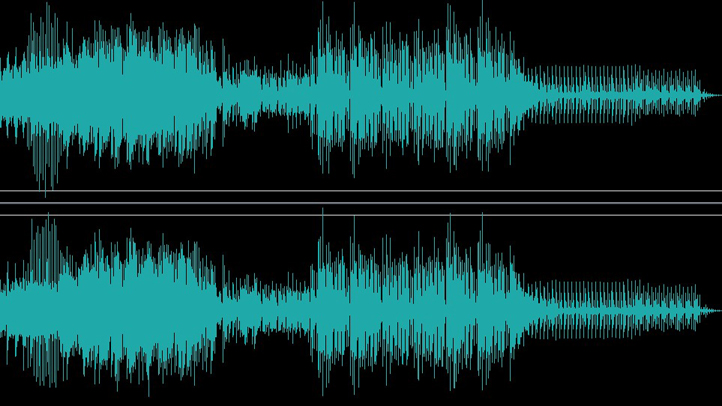 We asked The Zen Monks (vocal choir) The Mayan (lofi beats & lyrics) and Jorrit Godeke (fretless bass) to participate in this song.

Together they create a certain atmosphere and contribute to the unique sound of the songs.

An amazing vocal choir is known professionally as The Zen Monks

We have 4 audio channels for the choir. Ruben Geerlings likes to pretend there's an outside band called the Zen Monks, which was recorded at Cbra Systems High-Quality Studio, in Groningen in March 2023 under the direction of Ruben Geerlings who is also the web designer of cbra.systems, an innovative website with a distinctive take on music, technology, and beyond.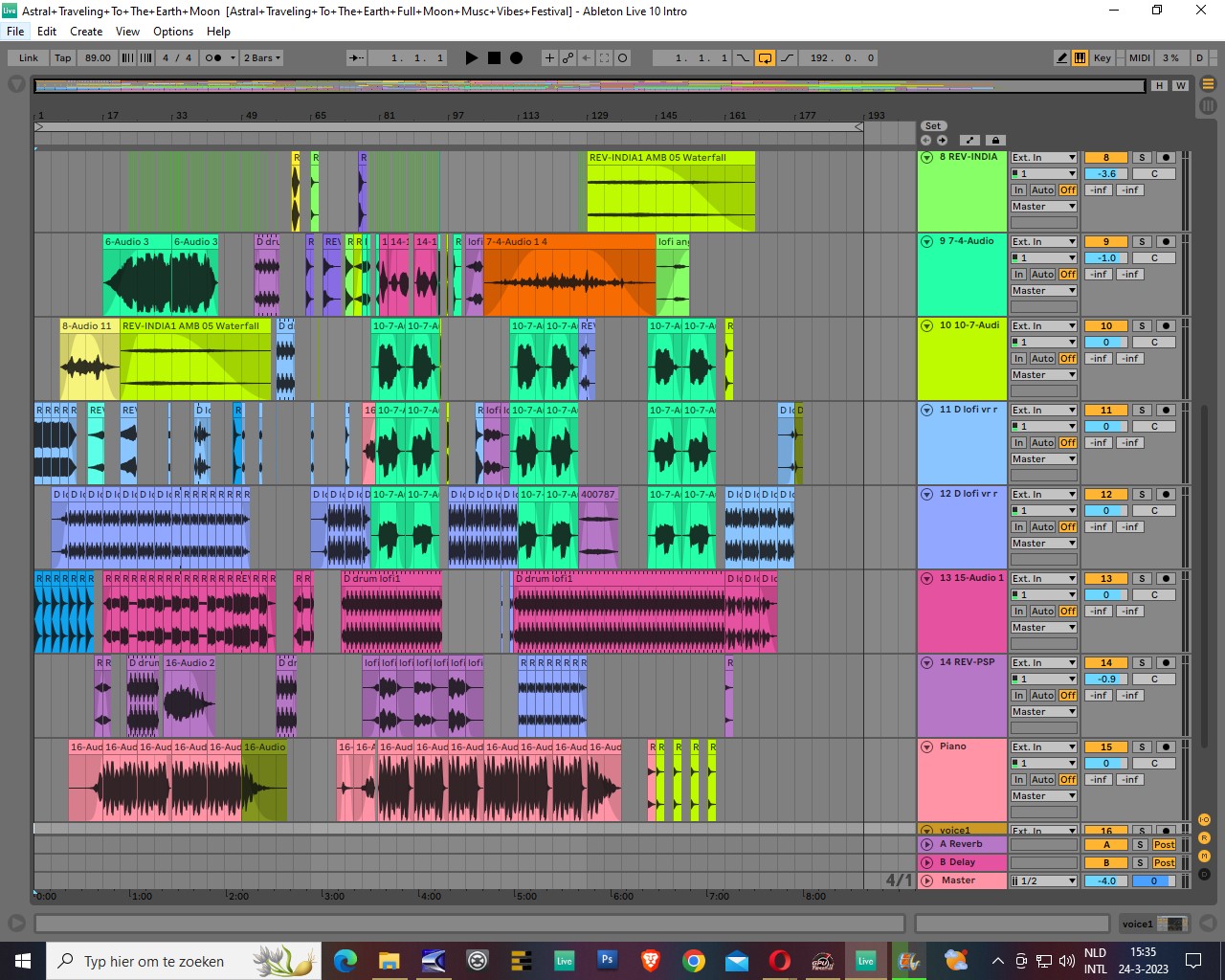 For all the music lovers

Experience music like never before with CBRA's multi-desktop platform. Play your favorite tunes seamlessly across devices. Discover our feature today! https://www.cbra.systems We are engaged in providing intellectual thought and music services. Feel free to visit us regularly to check for updates. Stay tuned!


Collaboration with The Mayan

He has sung vocal parts. He made some chill beats and a mellow chill-hop melody with a bassline which we used at the end of the song.

Communication went well. We used https://www.wetransfer.com to send the audio files back and forth.


The lyrics
"Astral traveling the stars."
"Nothing out there seems too far."

The Mayan can be found here: https://www.soundcloud.com/the-mayan



Sound effects

We also decorated everything with sound effects. These samples come from a Hardwell sound pack.

More sounds, loops and, other samples can be found here: https://www.revealedrecordings.com/sounds


Stem file for "Astral Traveling To The Earth-Moon"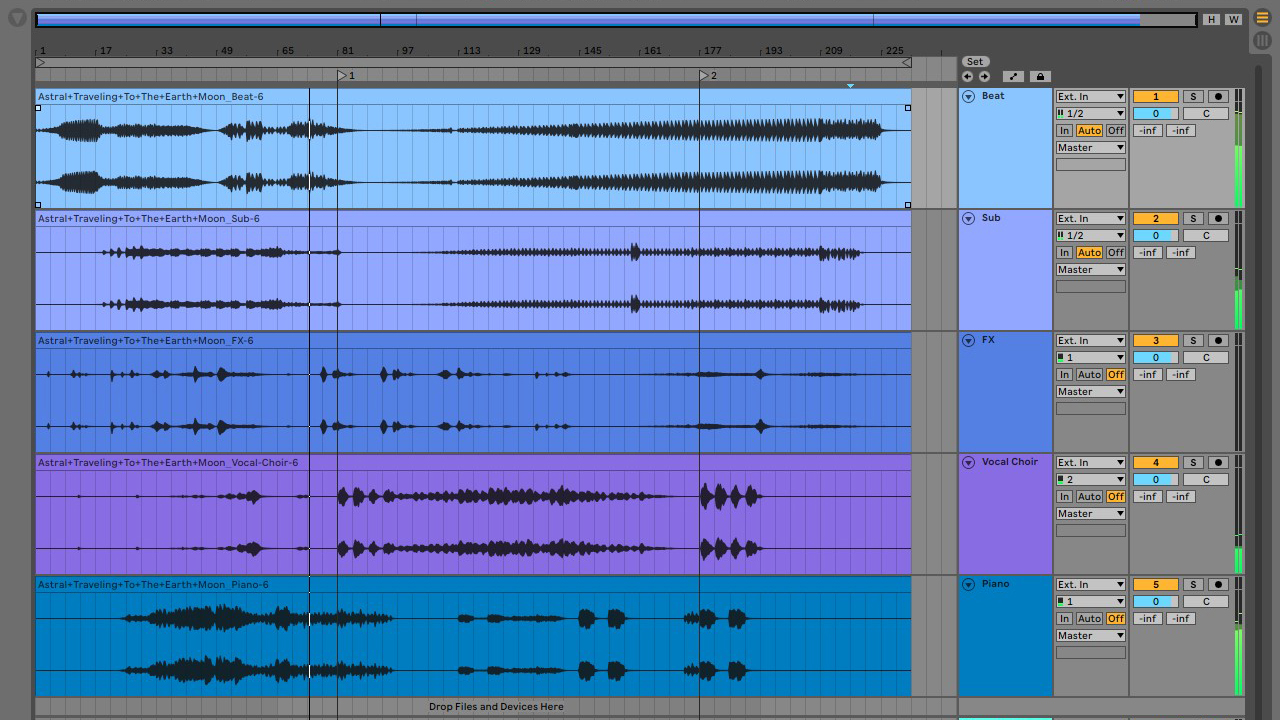 The five main parts of our track that we would like to have available individually are Beat, Sub, FX, Vocals & Chorus, and Piano.

Download 305 Mb here: https://www.cbra.systems/notes/audio-news/stems.zip



The Bridge
| D# / C / G / F / D# / C / G# / G |
| D# / % / F / % / Bes / - |
Progress

The song is starting to take shape.
Download the song in .wav here: https://www.cbra.systems/notes/audio-news/28-Astral-Traveling-To-The-Earth-Moon.zip

A new working title for the song has arrived: "Astral traveling the stars."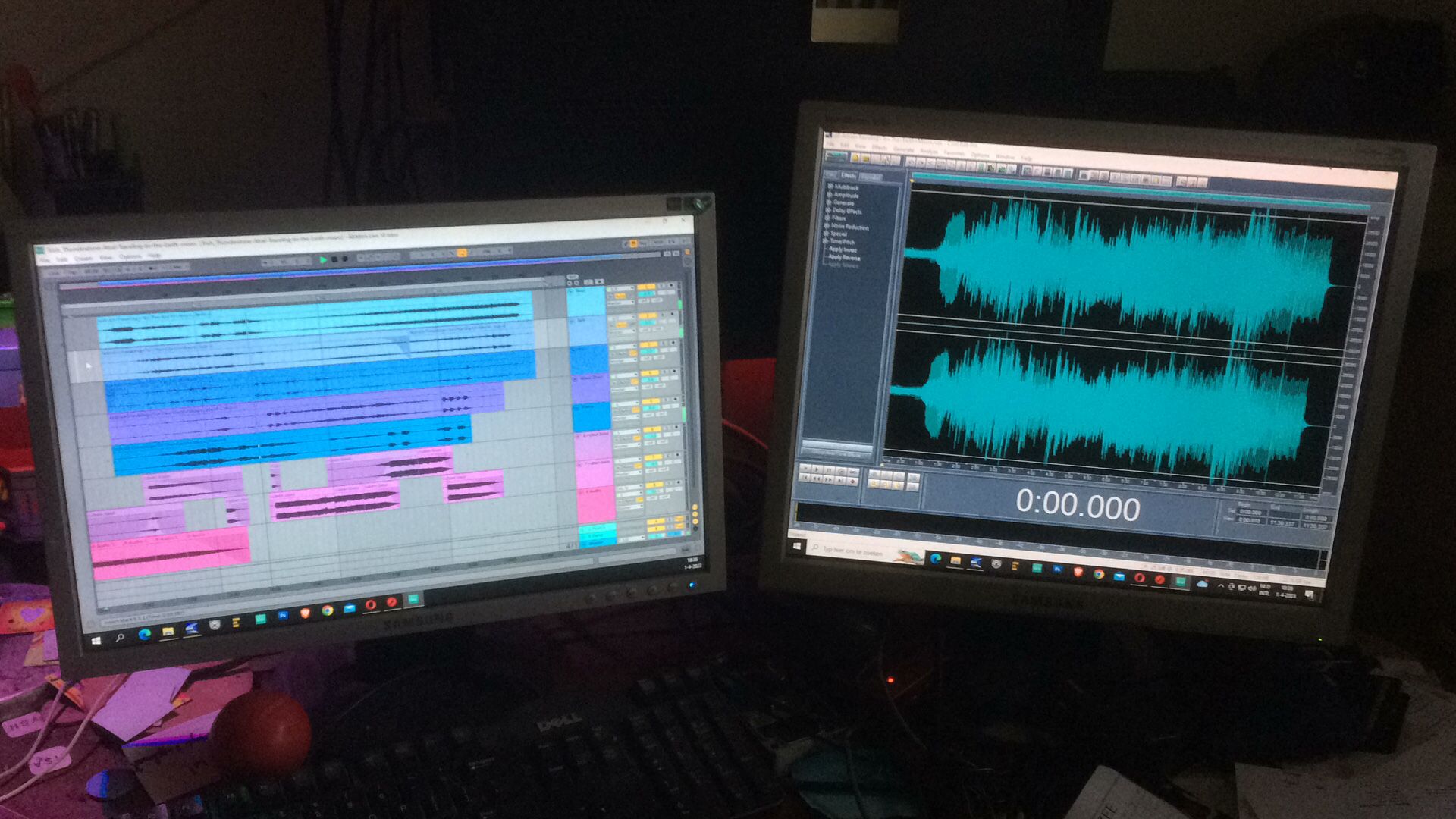 The Bass

We were looking for a cool bassline for a Trish Thunderstone song. Aleks Smitt made this bassline for us. We are satisfied with it.



To be continued...

A big thanks to everyone for your continued support. It gives us tremendous joy knowing that our music touches so many souls.